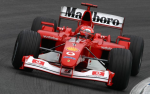 Dennis accuses BMW of 'showboating'
Monday 19 March at 11:08 :
McLaren boss Ron Dennis has accused BMW of "showboating" in the Australian grand prix.
Hinwil based BMW Sauber's Nick Heidfeld had an impressive start to the Melbourne race, leaping ahead of Fernando Alonso, but the German made his first pit stop very early and was among only three competitors to start on the 'soft' tyre.
In the official post-race press release, Dennis described BMW's strategy as "unexpected" and "very disruptive" to McLaren's plans to win.
Later, the British chief told reporters: "Our race was seriously compromised by the Heidfeld strategy, which we just didn't understand.
"It smacked of showboating in the opening part of the race," said Dennis.